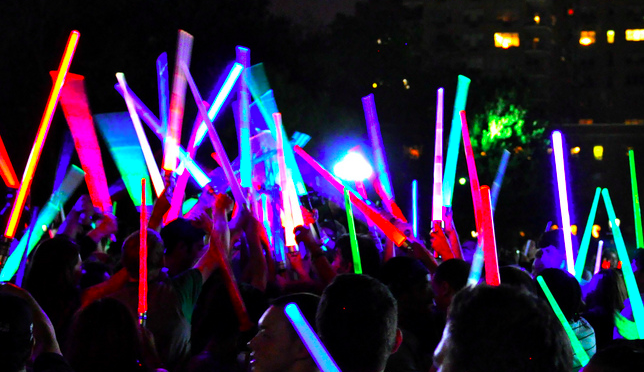 "So do you just like, fly around the country, setting up parties?"
I had never really considered it that way, but a bemused attendee of one of my events harangued me about what exactly I "did" as a person. Tim Ferriss talks about the difficulty of answering this question in The Four Hour Workweek:
I never enjoyed answering this cocktail question because it reflects an epidemic I was long part of: job descriptions as self-descriptions. If someone asks me now and is anything but absolutely sincere, I explain my lifestyle of mysterious means simply. "I'm a drug dealer."
 A friend of mine once had a business card that listed his occupation as "Jedi Hustler," who had a similar problem. Personally, the thing that is keeping me busiest right now is distributing lightsabers.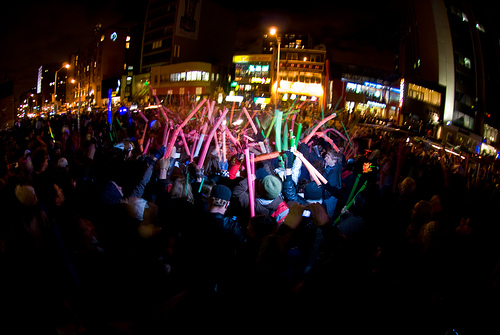 For the last 8 years, Newmindspace has been organizing gigantic lightsaber battles. Our first one (above) was a complete disaster. We spray painted 1600 cardboard tubes with dayglo paint and attempted to shine blacklight cannons on them to make them glow. To our chagrin, 4000 people came to the front of the Royal Ontario Museum in Toronto for the event. People were trampled, the tubes were ripped to shreds in minutes, and many angry parents told us how far they had driven their disappointed child. We were devastated, and knew there had to be a better way.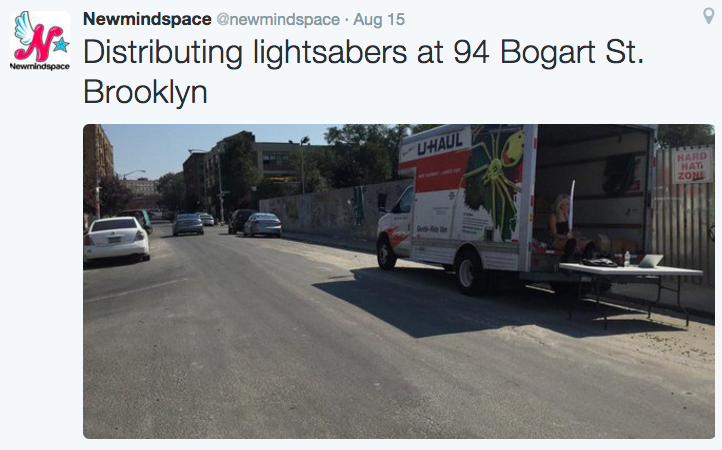 Since then we have been using a reservation system: people reserve their lightsabers in advance, show up at a truck on the night of the event, say their name, and they get their lightsaber. The event has gotten more popular over time, as being a Jedi (or Sith) seems to check a box on people's list of hero-fantasies (including mine!) but the upcoming release of The Force Awakens has generated explosive interest that even our most optimistic crystal ball-gazing couldn't have predicted.
One month ago, we announced a lightsaber battle in San Francisco. My friend Flynn, founder of Lightsaber Academy and NY Jedi, told me he'd been planning Jedi-related events in 5 cities for the Episode VII premiere, and urged me to expand the event plans. Slowly but surely, our one lightsaber battle in San Francisco has now become four lightsaber battles in San Francisco, Los Angeles, San Diego and Seattle, all on the weekend of December 18th & 19th. We are being officially invigilated by Guinness for the world record of "World's Largest Lightsaber Battle" (currently 7,000 sabers), a record we will break with ease: we currently have 8,100 lightsabers – depending on the traction in Seattle we may soon have 10,100.
So I suppose what that attendee asked many years ago has become true, at least for this month, as Lori, Elliot, Marie, Lucien and I will be flying around the country, setting up parties for Star Wars fans to enjoy.